It's one of life's eternal challenges – along with finding your soulmate and the one song you can sing perfectly in a Karaoke bar – finding the perfect moisturiser.
Not only must the little jar work miracles, but no sooner have we found one that we like either the climate changes or our skin does – or another sleepless night equates to another wrinkle – and we're back to the drawing board.
A few lovely multi-tasking ones have come our way recently, so we're sharing the knowledge…
-TEN- Anti Age Complete Rejuvinating Care Moisturiser: this is part of the range of skin and body care created for mothers and babies and the moisturiser really packs a punch. With a super luxe feel (reminds us a bit of Elizabeth Arden's Visible Difference in texture) your skin will drink in the creamy-soft blend of rice bran and jojoba oils and Vitamin E – skin is plumped up and glowing with natural goodness.
Our SM tester says 'I've got a persistant frown wrinkle on my forehead and this cream really does keep it at bay. I love how natural and fresh it feels when you put it on and it is rich enough to use at night too – plus I've been rubbing it into my hands as well…'
-Timebomb Skincare Collagen Bomb: this comes packaged like a grenade and is super charged with collagen and also ingredients to help preserve it – derived from algae and pine bark. It has a little bit of a golden tint to it, promoting a healthy glow and a little goes a long way.
Our SM tester says: 'Wow-Weeee! This is fantastic stuff, I'd even go so far as to say you could use it instead of a BB cream or foundation as it gives your face a subtle bit of apricot colour. Love the packaging too – I felt like Lara Croft when I was putting it on, lol. I'd say I'd use it more as a perk-me-up than every day, but definitely a high performance little product…'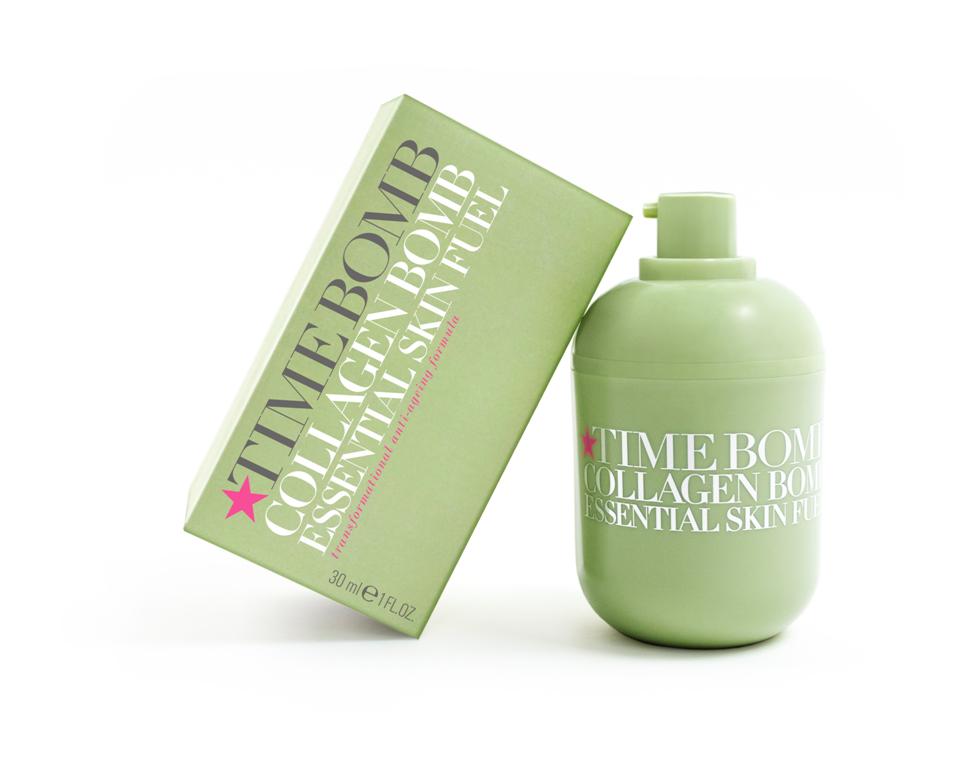 – Herbalife SKIN Daily Glow Moisturiser: from the people who brought you health supplements and protein shakes, this is Herbalife's foray into skincare. Designed to be suitable for all skin types, this daily moisturiser is formulated with a cocktail of antioxidant vitamins, aloe vera and chestnut seed – to give you a luminous, radiant glow.
Our SM tester says: this feels and smells really nice and the packaging looks expensive. It has a fresh scent (a bit like Estee Lauder's Daywear) and promises better skin in seven days! Herbalife suggest you apply this after serum; it definitely does need a little extra boost of something if you have dry skin, but it leaves your complexion lovely and shimmery – good for the 'no filter' selfies!'