Everyone knows it's as much about what your lunchbox looks like as what's inside. Here's our pick of some options sure to win the playground popularity contest.
Skip Hop's Forget Me Not lunch bag and backpack is ideal if you're not a morning person! With a window in the backpack to indicate whether or not you've remembered to pop the lunch bag inside it's a failsafe for those ditzy/not enough coffee moments and they come in a delicious range of colourful designs too…
The range of personalised lunchboxes from Becky and Lolo not only have a design that will appeal to every child in the huge range but also stops mealtime mix ups and muddles.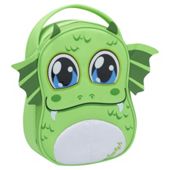 Don't let the monster scoff all the cookies! Little guys will love the Smash Boggle monster pack – available from Tesco. This one is extra insulated to keep drinks and yogurts cooler for longer.
Cath Kidson's adorable sausage dogs are made from wipe clean fabric – great for bigger kids who need to fit their essentials in as well as their lunch.
For some vintage charm, try this fox and badger design from Bebe Beau at Not on the High St. Fab for picnics too – just the right size for some sarnies and an apple.