At SM we love a cleaning job done well. Not spritzing the porridge-sticky high chair with a namby-pamby supermarket spray that just moves the dirt around, nor something self-foaming that is so toxic it takes a tank of water to rinse away.
There's something thorough and comforting about buffing a beloved wooden table with beeswax polish or cleaning a kettle with vinegar – and so we were very excited to give the Bar Keeper's  Friend range a try…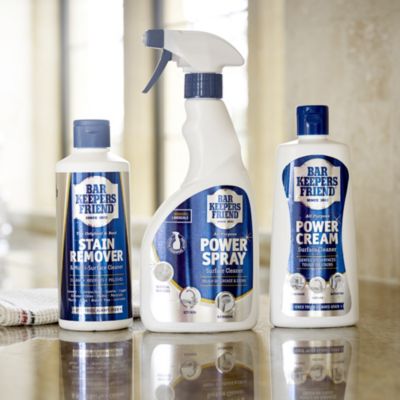 The Stain Remover is apparently used to clean the Albert Memorial – and is also pretty nifty for getting felt tip off the bathroom wall (just rub off with a dry cloth) or crud from baking tins when you were on the phone and forgot you had something in the oven (soak in a solution overnight).
The Power Spray uses citric acid and oxalyic acid (rhubarb, to you and me) and has a very long lasting fresh (lemon drop like) smell – but my gosh it really does get stainless steel shining! If you have little ones who flood the bathroom each morning and the result is scummy tide marks, a quick squirt and a rinse is magical.
And finally the Power Cream is the one to reach for if you've spilled red wine on a wooden worktop, or burned a milk pan – also great for getting rid of those black marks from candles from the inside of Hurricane lamps- and generally brightening up hobs, grout, tiles etc
All available from Lakeland.