We were thrilled to get the chance to chat to Clare Grogan. From 80s pop starlet to 'Gregory's Girl' to poster lust icon for Sci Fi Geeks, it seemed like Clare had done it all. Except fulfil her dream to be a mother. After heartbreaking failed IVF, Clare and her former-bandmate-now-husband Stephen decided to adopt; and life has seemingly never looked rosier. In fact, Clare is now a patron for the BAAF (British Association of Adoption and Fostering) and Clare describes her latest children's novel  as 'a love letter' to her gorgeous daughter.
The latest novel – titled 'Tallulah on Tour' and released on 6th April – follows on from 'Tallulah and the Teen Stars' and tells the story of fifteen year old Teresa as she takes her band on the road. Peppered with words of wisdom, but written in pure teen-speak, this one will definitely resonate with your little lady (and the illustrations are beautiful too).
SM: Is the adoption process somewhat harder when your occupation is 'The Pixie of Pop'?
Clare: Actually, in some ways I found it easier than my husband because I  am quite used to being scrutinised,  having spent all my working life in a public arena. So answering very personal questions is something I've done quite a lot of over the years in interviews and having my work reviewed and critiqued…I think it's important that they take the time to get to know you and it's only right they ask you some probing questions which although its tricky it seemed to both Stephen and I appropriate. After all it's precious little lives that we are dealing with here…
SM: Is it still very rock and roll 'round your house?
Clare: Well we do have a studio in the top floor of our house where we recorded the songs for Tallulah. 
We created a sound cloud and you can hear some of the songs mentioned in the books…which was good fun as we got my daughter and her cousins to sing on the choruses. It got quiet raucous at one point – that's 10-year-old girls on cola and cupcakes for you!  And we have a disco ball in our lounge because we do all love a dance in our house…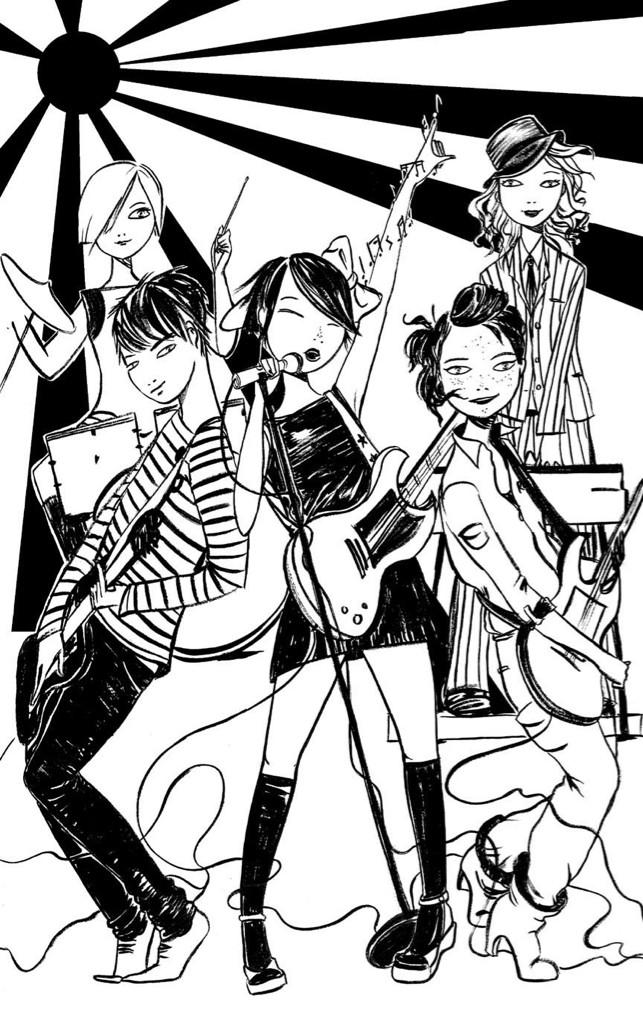 SM: the character 'Patti' seems to have a lot of parallels with your own life (her job at Spaghetti Factory, your middle name is Patricia etc), do you see yourself as more of a big sister than a mum?
Clare: No – I am such a little sister in fact. I am the youngest in my family and I LOVE having big sisters.
I have borrowed various little character traits from my sisters, myself, in fact all the woman and girls in my life and used them to define all the girls in the book. As for the Mum thing my Mum use to call me little Mother – I was obsessed with my dollies when I was wee and loved bathing them and taking them walks and feeding them…all of it!
SM:  Is your daughter showing signs of following in yours or Stephen's footsteps?
Clare: Elle loves to sing and loves coming to work with me…she has come on filming trips, helped with props at Theatres I have been working in and stood at the side of the stage refusing to wear her ear guards at gigs. I just hope Elle finds something she is passionate about and works hard at which is what the whole Tallulah thing is about. Chase your dreams is what I love to tell all kids! t's not about being famous it's about being fabulous at whatever you do.
SM:  'Tallulah' is very much a gigging, touring, hard-working would-be popstar… Do you think that teens these days think the key to their musical aspirations lies with impressing Simon Cowell?
Clare: I think  X Factor is a great entertainment show but I do worry about how harsh the experience is for some people.  But, I just love the idea of kids being in garages or bedrooms or community halls playing instruments and having fun and seeing where it takes them…it's not all about having that big belter of a voice.
SM:  As someone who struggled with IVF, do you have an opinion on the recent D&G/Elton spat?
Clare: I felt completely bewildered by the comments that Domenico Dolce made…in fact I was horrified at the word 'synthetic' and the whole attitude he expressed. apart from anything it was horribly unkind.  Not buying Dolce and Gabbana won't be a big problem for me!
SM: And finally, we had to ask (sorry!) Do you get random people shouting 'Happy Birthday' to you in the supermarket?
Clare: Yes, I do…in fact everywhere I go it happens and I love it! I often sing at friends and families birthdays and everyone joins in which is really funny and very very silly!
'Tallulah & The Teen Stars' and 'Tallulah On Tour' are available as e books through the Amazon Kindle store. 
Get the titles on Amazon.
Contact the BAAF: http://www.baaf.org.uk/