This unique design not only aids 'grown up drinking' but is approved by orthodontists. We tested…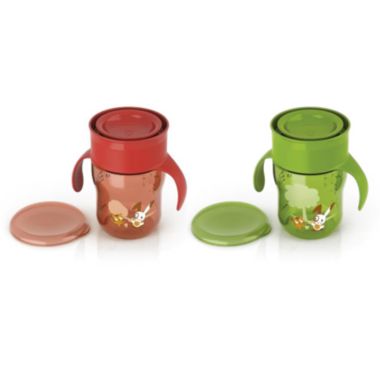 SM tester writes: when these cups arrived my one-and-a-half year old didn't need telling twice. In fact, he'd already decided he liked the red one best and his four year old brother (who obviously can drink from a normal glass) could have the green one – then he realised there was a picture of a rabbit on both (my son adores rabbits) and he wanted the green one back. 
This was all way before a drink went into them… But lo and behold – not only do these clever cups allow for easy. 'soft' sipping on demand but they are COMPLETELY and utterly spill proof. 
Yep – it's even safe to fill them with milk and let the kids sit on the sofa, or take up to bed without fear of leaks or puddles. And unlike some sippy cups which your toddler might have figured out how to make 'pour', honestly, these can even survive being taken on a trampoline (not that we advocate drinking and bouncing at the same time). 
Super easy to clean – just lob in the dishwasher – no tricky little filter parts or bends to clean 'round and there's a lid if you want to take them on trips (although you actually don't need it if the cup is upright – I can happily balance one on the dashboard of the car!) 
RRP £8. Buy online here.