SM tester writes: "If you thought you owned every kitchen gadget, here's a new one on your radar. But before you read about it, just go and look in your fridge. If it's anything like mine, the veg section probably has a half punnet of rotting raspberries, and some leeks you can't remember when you purchased as you had the best intentions to make soup. Add to that a half-eaten 'power bowl' (when did 'leftovers' become 'power bowls'?!) that you made yourself the other day before finishing off your toddler's Organix snack instead. Maybe a chocolate bar you'd been rationing?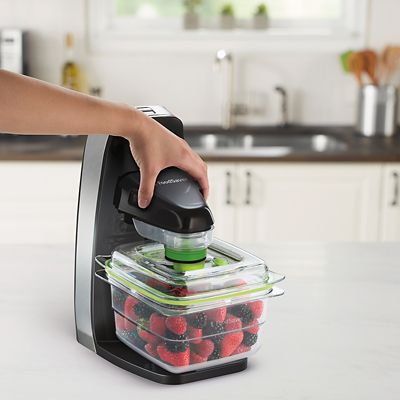 So the Foodsaver machine vacuum seals either bags or special containers, allowing you to preserve food in the fridge for much longer. Which, if you're a mum is a no-brainer. 
Other things it does: seals a portion of cornflakes so that you can pop it in your work bag without it exploding, seals travel documents that you are packing for emergency reference, so that they won't get wet or sandy, protects silverware (the vacuum sucks out the oxygen which stops tarnishing) for storage – and lots more. 
The only thing it won't preserve in your fridge is anything liquid. So that bottle of prosecco you opened at the weekend… well, you're just gonna have to finish it."
The upright vacuum Foodsaver RRP is £89.99 and it is available from Lakeland, Amazon, and more – or save 10% when you buy it from Foodsaver website.