If you've spent too many hours in front of the porcine princess random thoughts might begin to cross your mind: why is the kids' room on the top floor if Daddy Pig is meant to be an architect and not fond of stairs? Do they ever eat bacon..? But possibly you might also ponder why – in the space of four series they have gone through three actresses to voice the lead role?
Does daily snorting turn them into unbearable divas? Is there some sort of curse on 'she who plays the pig'? Or do the actresses themselves lead lives (ahem) peppered with intrigue?
Currently Peppa is played by child star and youngest ever BAFTA winner Harley Bird who hails from Rochdale and cites Catherine Tate as her idol.
Original Peppa – who also sings the really annoying theme tune – Lily Snowdon Fine is now living back in her native Vancouver and illustrating impressive graphic novels. Her connection with the show seems to be that her parents (Alison Snowdon and David Fine) went to film school with Peppa creator Mark Baker. Despite resembling a teen-angst Winona Ryder, Lily also voiced Barbie movies.
Cecily Bloom, who voiced Peppa in series two seemed to have abruptly abdicated the throne of the pink palace but seems to have been given a minor role (Lizzy Elf) in another Astley-Baker series Ben and Holly's Little Kingdom. There were some other 'culls' circa series two, including axing Lily's mother as Aunty Pig… Curiouser and curiouser.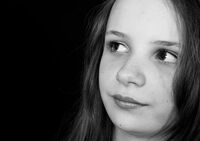 So why three different girls? Maybe it came down to the producers' instinctive approach. Mark Astley told Metro:',I'm proud to say we did no research into the preschool market, no child psychologists and we didn't even have our own children at that point…'
Interestingly Candy Cat has also been played by three actresses. So might there have been a Cat-Pig spat..?