Read Mothercare's recommendations here – they suggest things like nighties, maternity pads, camera etc. Yeah yeah, very practical. But we think there are a few touches you could find room for that might make the experience a bit slicker…
Colourful baby blanket: Myleene Klass takes this opportunity to plug her Baby K range, but when the little one comes out in an NHS hospital they tend to just wrap them in a regulation white towel. So pack a nice blankie and not only with your newborn be snuggly, but those first pictures will look less 'clinical'… Hillcrest Knitwear in Scotland make some gorgeous cashmere ones in a range of colours (from raspberry to teal to lime to chocolate) at a very reasonable £24 each.
Jurlique Rosewater Facial Mist: smells like Valentine's Day in a bottle and cools whilst hydrating and softening. Spray it liberally on your brow, feet, nape of neck… Heck, give the tired nurses a quick blast too…
Contraction Master App: OK, not so much one to pack as to download, but let's face it, who wants to faff about with a pen and paper and a stopwatch when you can track contractions on your iPhone. The App also plots a handy graph you can show the midwife when you arrive and is techy enough to keep your partner interested…
Bubble Popping Game: forget watching a romantic film or reading Tatler, what you really need is instant gratification. Try downloading an old skool game like this bubble wrap popping one: http://www.games.com/game/dragonsnare0/bubble-blaster
Hipflask: OK so not 'hospital approved' but Dads-to-be might find a little dram in the car park helps with the stress of a long labour. Just get a taxi home…
Post partum girdle: super skinny 'blessed with good genes' Natalie Portman may have emerged from hospital without a mummy-tummy but a good girdle not only helps keeping the wobbly bits tucked in but also gives a bit of back support.
Gifts from the baby to an older sibling: Aaah, the first time your little darling meets its nemesis, quite unlikely to go without screaming ab-dabs and general confusion. Reduce the drama with a petit cadeau – we'd suggest something non-projectile like this 'Big Brother' tee from Cafepress.
Lollipops: sucking on lollipops helps regulate breathing through contractions, provides you with a much-needed sugar hit and generally gives you something else to do with your mouth bar screaming, wailing and biting your husband's hand… Keep it classic with fruity Chupa Chups.
Thank You cards: after your midwife has spent 24 hours mopping, coaxing, measuring your cervix via the medium of gloved hands and doing most of the above whilst being grunted at, you might like to scribble a little note of apology/gratification afterwards. Bizarrely, hospital shops don't seem to stock anything other than 'Get Well Soon' cards – so come prepared. Smythson's 'Truly Wonderful' notecards (£40 per set) say what you might be too overwhelmed to write…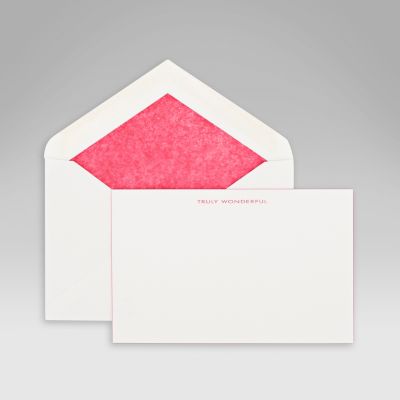 And pack it all in this Travel Bag by Chamomile from not on the high st: gorgeously girlie, comes with a travel pillow, a blankie that doubles as a changing mat and notepads with crayons for you to scribble rude words on, this is the ultimate in calming, beachy-chic baggage.